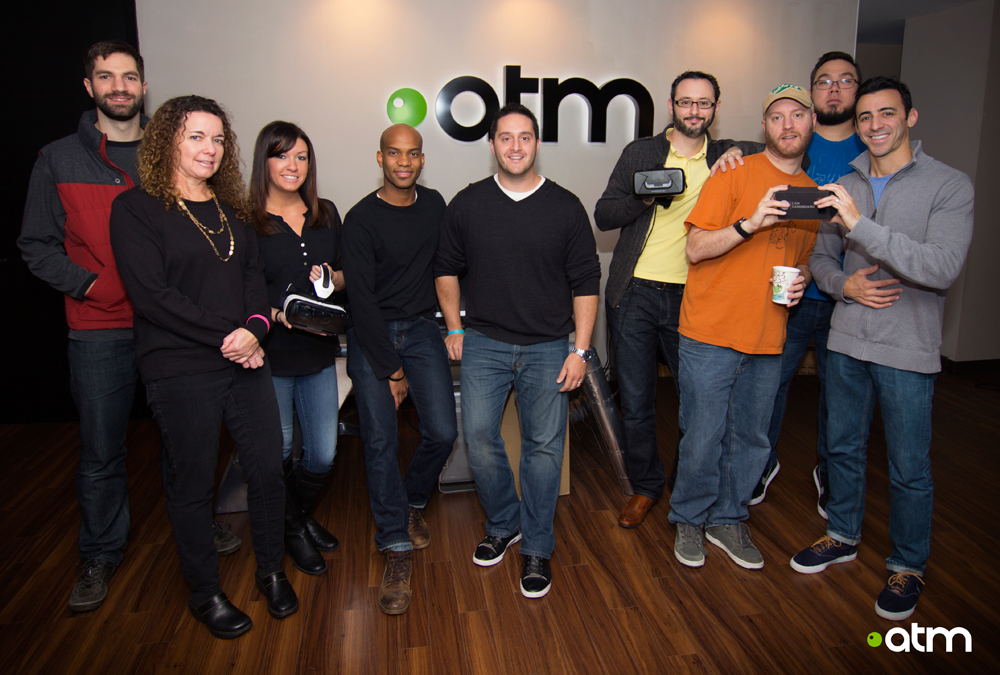 Cutting-Edge Digital Firm Expands Its Reach Into An Array Of New Technologies
MAHWAH, N.J. November 24, 2015 -- Leading digital development agency, All Things Media (ATM) is expanding into a new reality... a virtual and augmented reality. The New York Metro-area firm creates digital programs and experiences for Mercedes-Benz USA, Toys R Us and Pearson, and has been at the forefront of digital technology for over a decade, building some of the most innovative, award-winning digital experiences both online and in retail environments. Always on the cutting-edge in exploring and utilizing new technologies for its clients, ATM has been testing and deploying augmented reality experiences for brands like Stryker and retailer Baked By Melissa, and developing virtual reality experiences for auto manufacturers, pharmaceutical clients and even museums, including the internationally regarded Albright-Knox Art Gallery.
In a move that co-founder and Managing Director Rob Spierenburg called "a natural and necessary evolution" ATM has merged talent across all its digital departments into a dedicated team focused on investigating and exploiting emerging technologies for its clients. "Throughout its 15-year history, ATM has always been developing solutions at the cutting-edge of technology," said Spierenburg. "It is important that we continue to push the boundaries of what's possible, investigate and evaluate the merits of each new technology, and gain an understanding of how it will work best for our clients."
While ATM's Immersive Technologies Division is not limited to augmented and virtual reality, these two technology initiatives are reaching a critical mass and are poised to make a major consumer breakthrough in 2016. "With Facebook's $2 Billion investment in the Oculus Rift, the Google Cardboard VR viewing device becoming an inexpensive entry point, Samsung Gear set to launch a consumer hardware solution in early 2016, and Microsoft's Hololens about to change the AR game, the road we have been on as technology developers for almost a decade, is now set to hit the mainstream," added ATM co-founder and Managing Director, Rich Maharaj. "The time is right for ATM to dedicate specific resources to shaping these technologies on behalf of our clients, and capitalize on our award-winning digital teams across 3D, Programming, Design, Animation and Video Production."
Virtual reality is an immersive multimedia experience that replaces your view with an enhanced simulated environment, and puts you in the middle of a computer-generated world. Augmented reality is a technology that allows digital enhancements to be inserted into your field of view, and keeps you in the same physical world. Both technologies are startling ways for brands to better tell their story and connect with their customers. Whether it is education, travel, gaming, retail or entertainment, augmented and virtual reality are poised to make a major impact on both companies and consumers, and ATM's Immersive Technologies division is poised to help bridge that gap in the most effective way.
About All Things Media
As an award-winning digital development firm, top industry brands choose ATM for our in-house expertise and proficiency in Programming, Design, 3D, Illustration, Animation and Video Services. ATM combines this wide array of technical and creative resources from across the digital spectrum, all under one roof, allowing our clients to benefit from quick turnarounds, cross-channel consistency, and the best in collaborative thinking. ATM is constantly pushing the boundaries of digital technology and are relentlessly focused on connecting brands and consumers, delivering ROI and the best possible results for our clients.
http://www.allthingsmedia.com/
Contact:
Jason Farrar
jason.farrar@allthingsmedia.com
All Things Media
10 Industrial Avenue
Mahwah, NJ 07430
(201) 818-1999, x180
www.allthingsmedia.com