Design Students See The Future Of Digital Media
Visiting Graduate Candidates From the American College of Greece Learn How International Companies Are Using The Latest Technology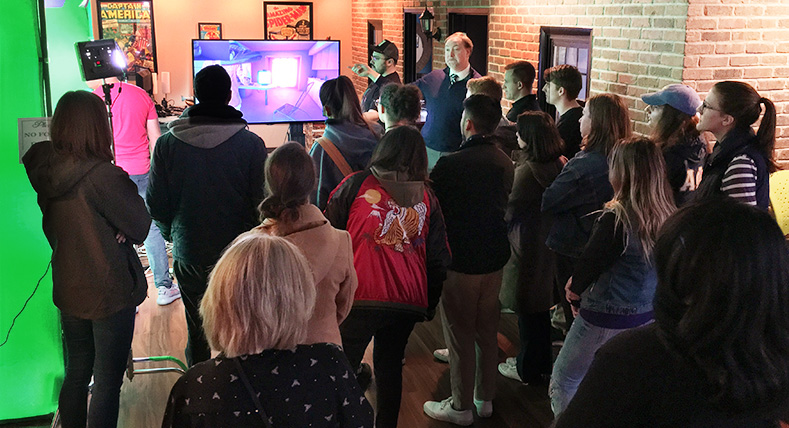 Ramapo College graduating seniors learn about mixed reality from ATM's Jason Farrar.
MAHWAH, N.J. April 12, 2018 / PRNewswire/ -- All Things Media (ATM), the area's leading digital development agency, is opening its doors to the community organizations and students to demonstrate what the future has in store. In an effort to inspire and inform the next generation, ATM hosted two different groups of students in conjunction with nearby Ramapo College (Mahwah, NJ). ATM gave hands on demonstrations of Virtual Reality, Augmented Reality, Photogrammetry, Gesture Control and 3D Animation programs it has created for its global clients Cadillac, Mercedes-Benz, Nickelodeon and McGraw-Hill Education.
The Design student tour included 14 seniors from Ramapo College and their lead professor Bonnie Blakely. This session focused on how design impacts digital products today, and its important role in how consumers and companies use technology on their mobile devices and computers. The program ended with a Q&A session with one of ATM's senior designers, Kevin Blum, allowing the students to gain direct insight on what it takes to become a successful designer in the digital age.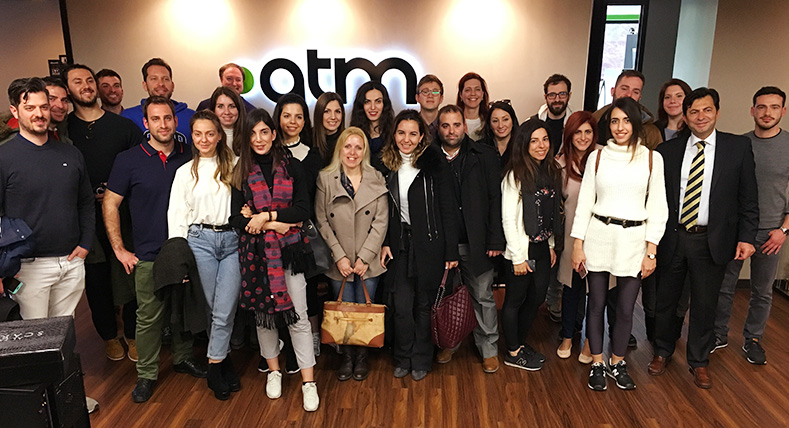 Students from the American College of Greece pose with ATM's Jason Farrar.
The second group included 27 Graduate students from the American College of Greece. These students, sponsored by neighboring Ramapo College, were on a tour to get exposed to different types of American businesses including NBC Universal, We Work, Stryker and All Things Media. The students toured ATM's innovative office space and were able to get hands on with the latest technology being used by some of the world's best-known brands. The visit included a Q&A with ATM co-founders Rob Spierenburg and Rich Maharaj.
"All Things Media has always been interested in inspiring the next generation," said Rob Spierenburg. "We have a long history of working with community organizations like Ramapo College, the Mahwah Regional Chamber of College, Liberty Science Center, High Tech High and Ramsey High School to offer insight and information to students on the future of technology." "This is a digital world," added Rich Maharaj. "The technologies we are working on everyday here at All Things Media, can apply to virtually every business. It's important that the next generation see how today's technologies are being applied, so they can work on the future."
Featured demonstrations included ATM's innovative Cadillac in VR program, award-winning Mercedes-Benz AMG Powerwall, Augmented Reality demonstrations for Pepsi, Sam Adams and McGraw-Hill Education, ATM's proprietary "Magic Mirror" technology developed for Nickelodeon, Disney, Hasbro, Mattel and LEGO, and the only Mixed Reality Cube located on the East Coast of the United States.
About All Things Media
As an award-winning digital development firm, top industry brands choose ATM for their in-house expertise and proficiency in Programming, Design, 3D, Illustration, Animation and Video Services. ATM combines this wide array of technical and creative resources from across the digital spectrum, all under one roof, allowing their clients to benefit from quick turnarounds, cross-channel consistency, and the best in collaborative thinking. ATM is constantly pushing the boundaries of digital technology and relentlessly focused on connecting brands and consumers, delivering ROI and the best possible results for its clients.
About Ramapo College
As the state's premier public liberal arts college, Ramapo College of New Jersey is dedicated to providing students a strong foundation for a lifetime of achievement. The College is committed to academic excellence through interdisciplinary and experiential learning, and international and intercultural understanding. Ramapo College emphasizes teaching and individual attention to all students. We promote diversity, inclusiveness, sustainability, student engagement, and community involvement. Ramapo College prepares students to be successful leaders for a changing world through its distinctive commitments to hands-on learning and faculty-student mentoring. Ramapo's mission also encompasses the core values of developing the whole person and respecting each other and our environment. The international mission is further accomplished through a wide range of study abroad and student exchange links with institutions all over the world. Additional experiential programs include internships, co-op and service learning.